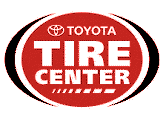 Toyota Center
in West Columbia is the only place where you can find competitively priced tires
from
experts who know your Toyota best
. You just can't beat our value pricing and Toyota tire expertise.
Every tire we sell is not only properly sized for your vehicle,
but it also meets the tread wear rating recommended by Toyota for safety, handling and longevity.
For more information please call
(803) 796-6650
. You can also schedule an online service appointment by using our scheduling app at any time.
Just click the top button to the right.