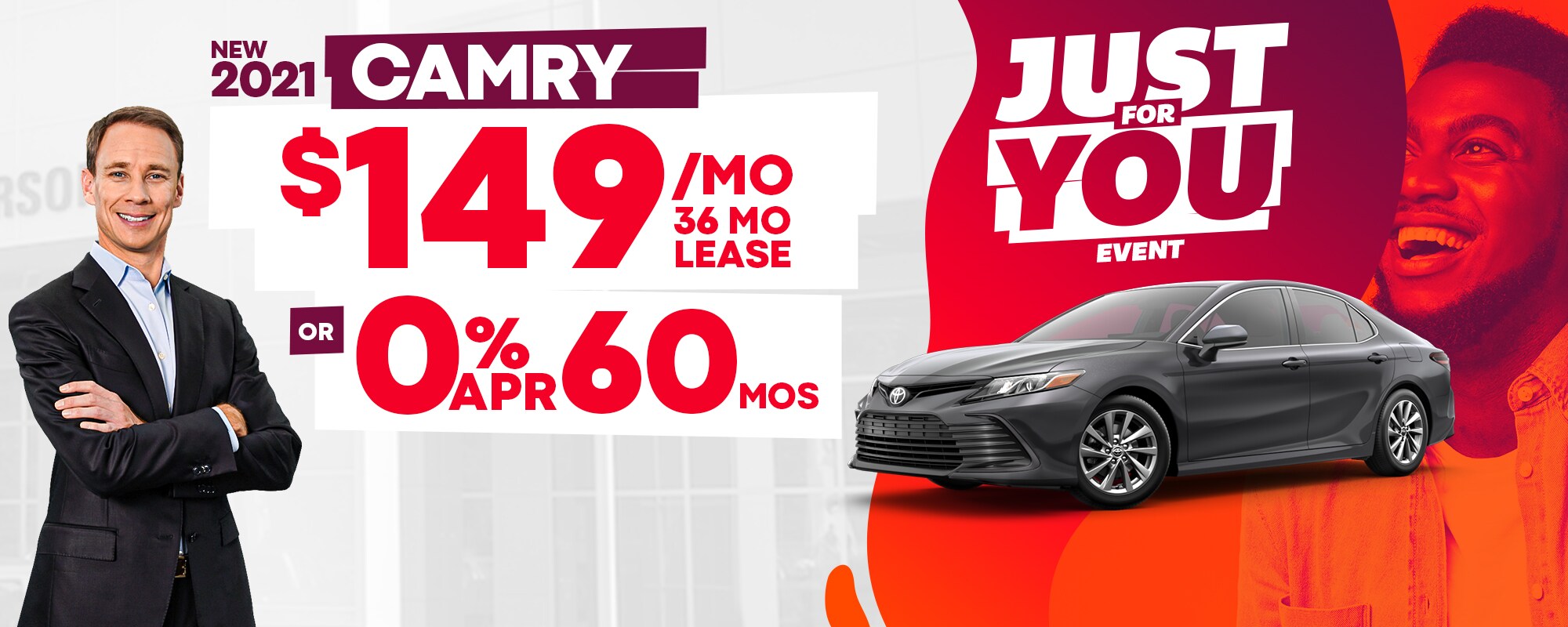 New 2021 Camry
$149 per month for 36 months lease
or 0% APR for 60 months
Excludes TT&L, insurance & includes $452 closing fee, Closed end 36 month lease with approved credit. Mdl 2532, MSRP $26652; Lease $4,498 Due At Signing with approved credit based on 36 month closed-end lease, $0 security, 12k miles/year with $0.18 per mile overage, qualified Tier 1+ customers only through SETF, $5364 total monthly payments; APR with approved credit for 60 months based on on 16.67/$1,000 financed with approved credit through SETF, $0 down subject to credit approval; Ends 5.3.2021
New 2021 Corolla
$99 per month for 36 months lease
or 0% APR for 60 months
Excludes TT&L, insurance & includes $452 closing fee,  Lease with approved credit,  36 month closed-end lease, Corolla Ex LE Mdl 1852, Stk LP092466, MSRP $21407,  Lease $5878 down plus 1st month's payment due at signing, with approved credit based on 36 month closed-end lease, $0 security, 12k miles/year with $0.18 per mile overage, $5544 total monthly payments, 0% APR with approved credit thru SETF for 60 months with approved credit mutually exclusive thru SETF based on $16.67/$1,000 financed, $0 down subject to credit approval, Ends 5.3.2021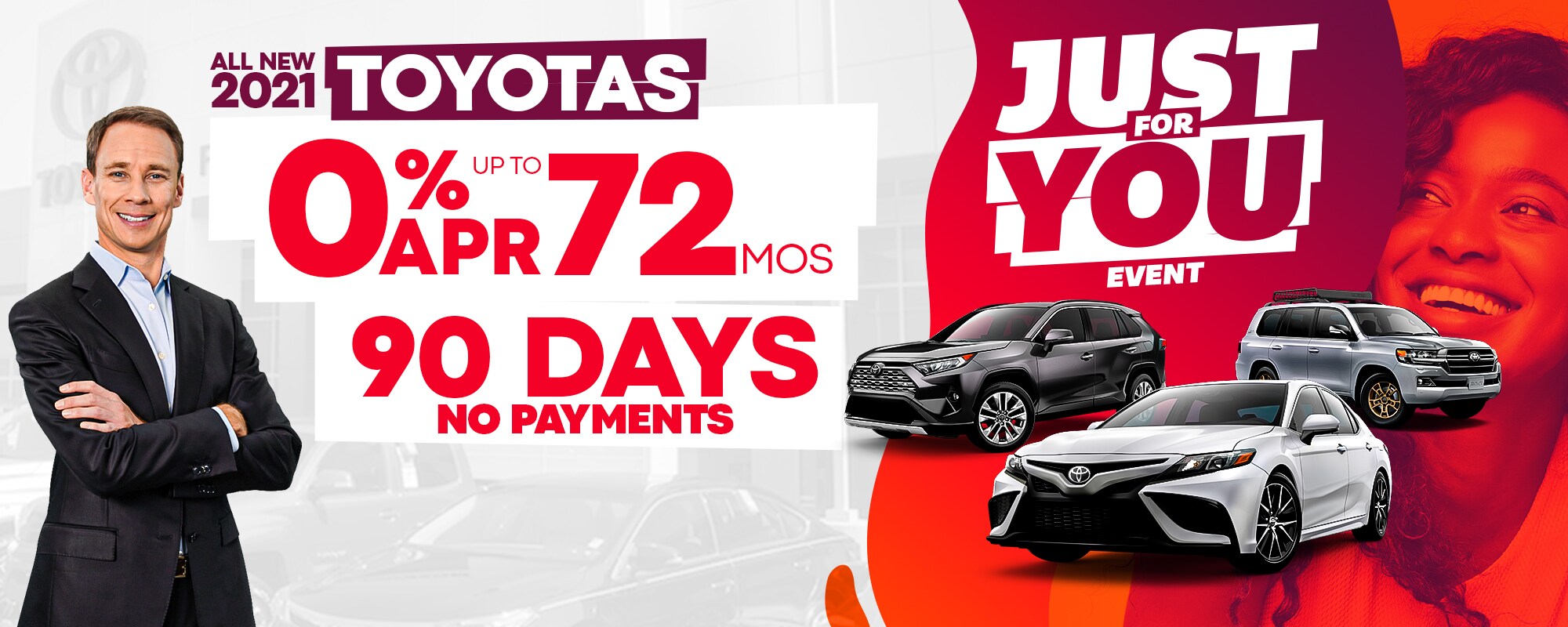 All New 2021 Toyotas
$0 Payments 90 Days
0% APR up to 72 months
Excludes tax, tag, title, license & includes $452 closing fee; $0 down with approved credit, 0% APR up to 72 Months on select 2021 Toyota models with approved credit based on $13.89/$1,000 financed, excludes Hybrid, Land Cruisers & ProSeries  models; $0 down payment subject to credit approval, Excludes Pro series; $0 payments 90 days valid on select 2020 & 2021 Toyota models with approved credit; Deferred payment program from date of contract, Accrual of interest commences from date of contract & consumer responsible for payment of accrued interest, provided by dealer up to $3,000 total, see dealer for full details; Offers cannot be combined; Ends 5.3.2021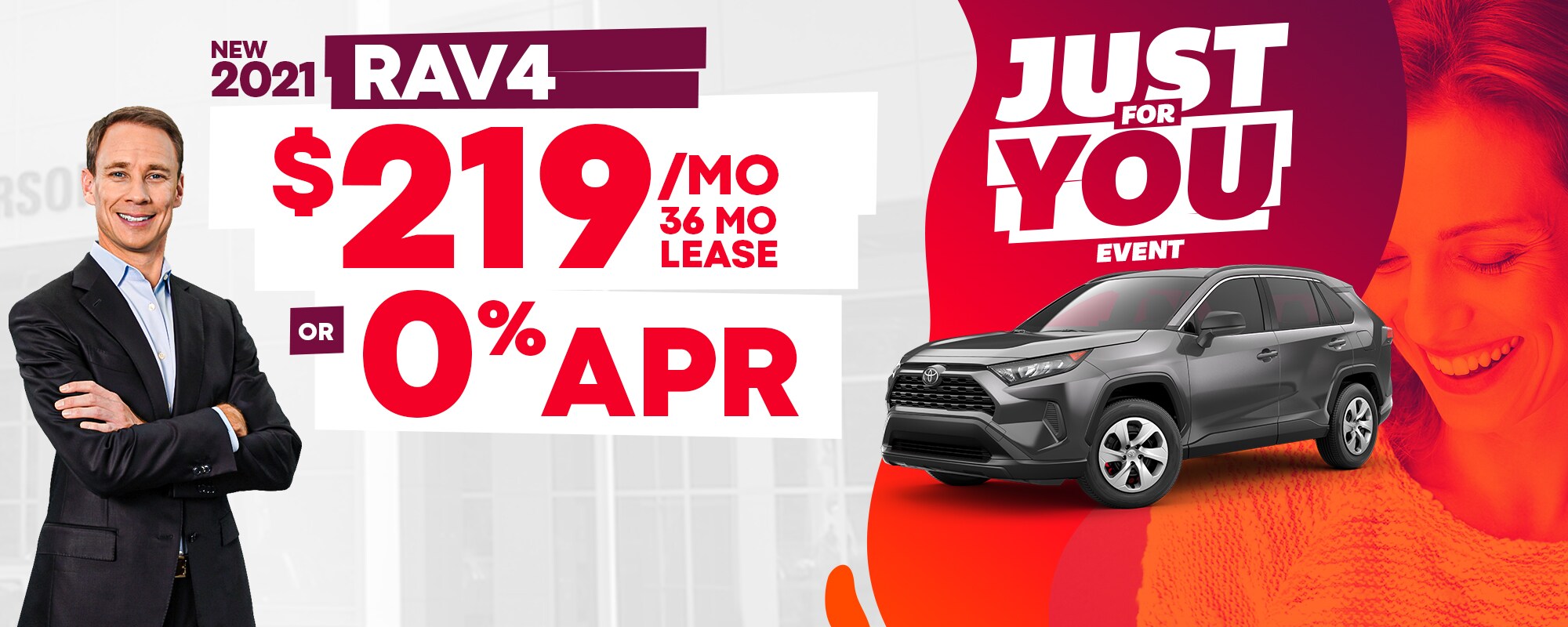 New 2021 RAV4
$219 per month for 36 months lease
or 0% APR
Excludes TT&L, insurance & includes $452 closing fee, Lease with approved credit,  RAV4 Ex LE Mdl 4430, MSRP $27,269, Lease $7884 down plus 1st month's payment due at signing, with approved credit based on 36 month closed-end lease, $0 security, 12k miles/year with $0.18 per mile overage, $8064 total monthly payments, 0% APR 48 Months with approved credit based on $20.83/$1,000 financed, not all will qualify, $0 down subject to credit approval; Ends 5.3.2021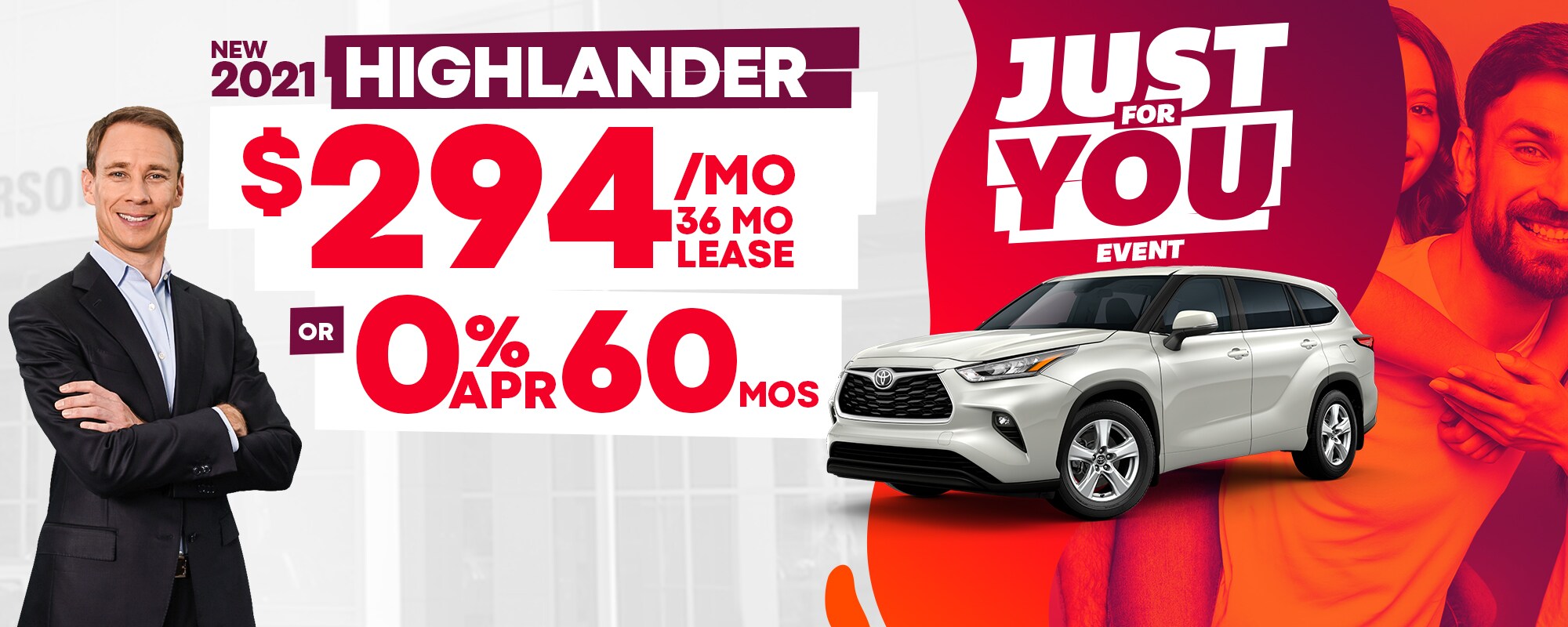 New 2021 Highlander
$294 per month for 36 months lease
or 0% APR for 60 months
Excludes TT&L, insurance & includes $452 closing fee, Lease with approved credit,  36 month closed-end lease, Mdl LE 6946, $4299 down plus 1st month's payment due at signing with approved credit, $0 security, $10584 total monthly payments, 12k miles/year, $0.18 per mile overage, MSRP $38572, $38987.57 Net Cap Cost;  0% APR with approved credit mutually exclusive thru SETF valid for 60 months based on $16.67/$1,000 financed, not all will qualify, $0 down subject to credit approval; Ends 5.3.2021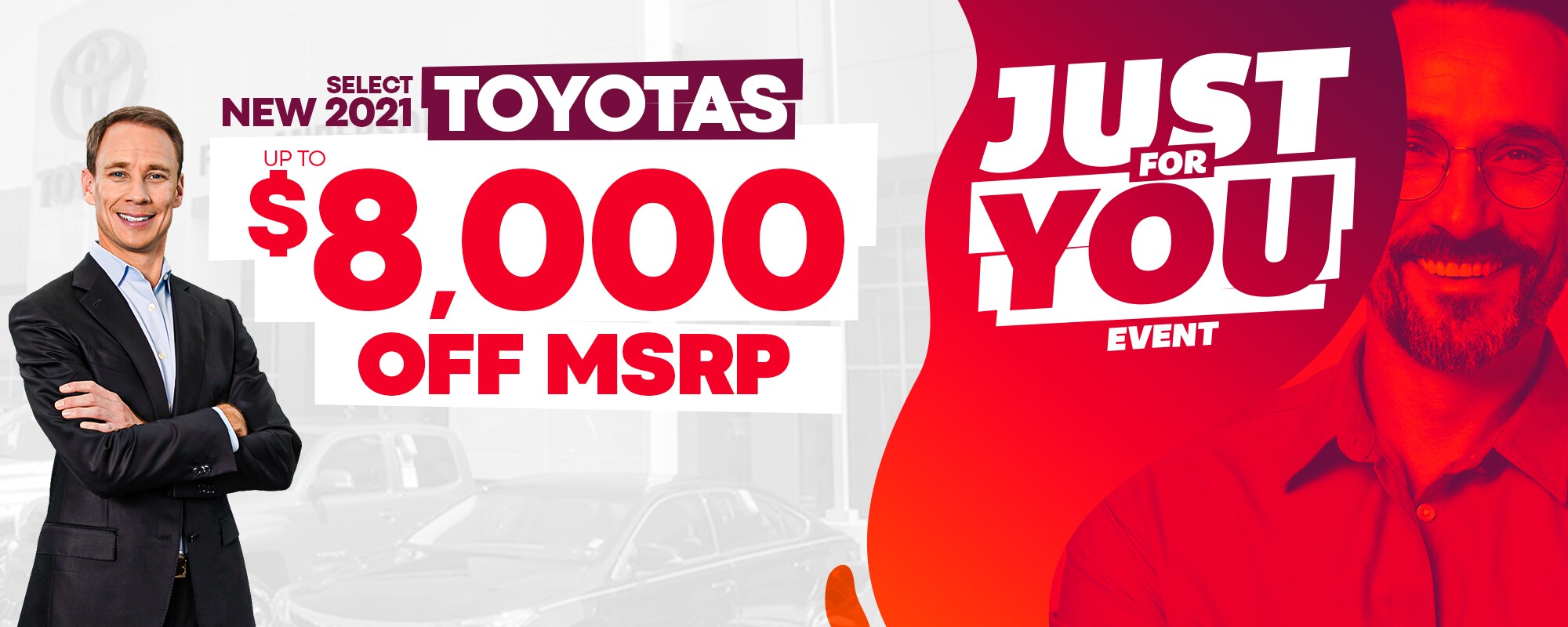 Select New 2021 Toyotas
Up to $8,000 off MSRP
Excludes tax, tag, title, license & includes $452 closing fee; Ex New 2021 Land Cruiser V8, Stock M4099708, MSRP $88749; Mdl 6156, $8,000 off MSRP provided by dealer; Ends 5.3.2021
We're Paying Top Dollar for Every Trade
& Lowering Prices on Every New Toyota and Used Vehicle!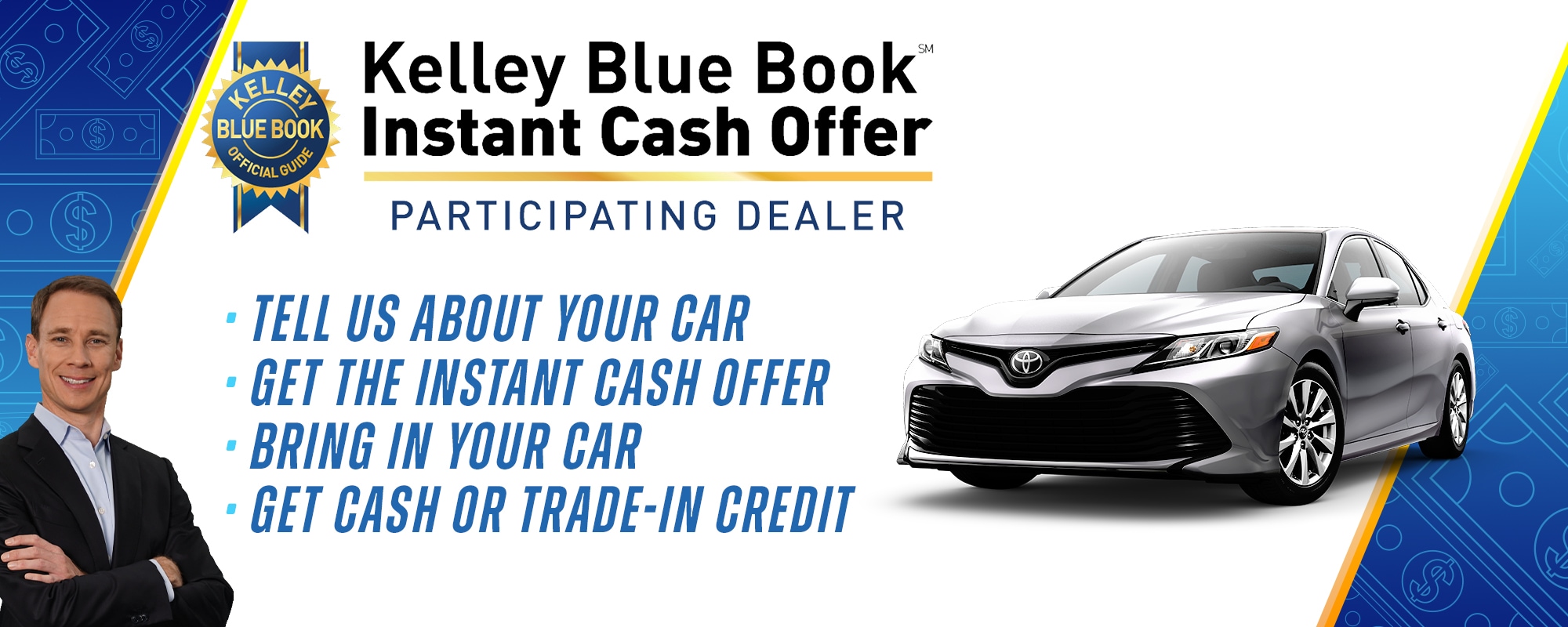 Kelley Blue Book Instant Cash Offer!
Tell Us About Your Car, Get the Instant Cash Offer
Bring in Your Car, Get Cash or Trade-In Credit!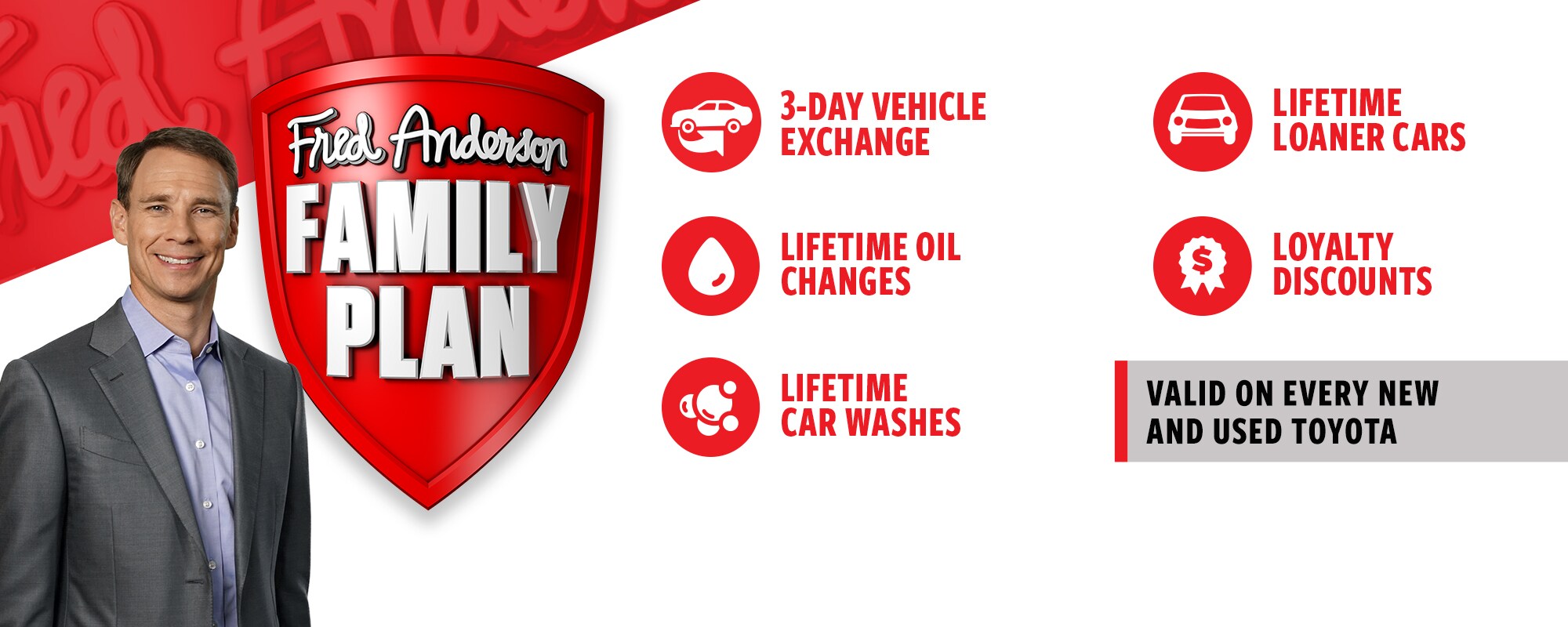 The Family Plan at Fred Anderson Toyota of Columbia, SC 
Valid on every new and used Toyota!

An Easier Way To Buy! 
Driven By You! Review 
Pricing Trade-In 
Value Protections & Coverages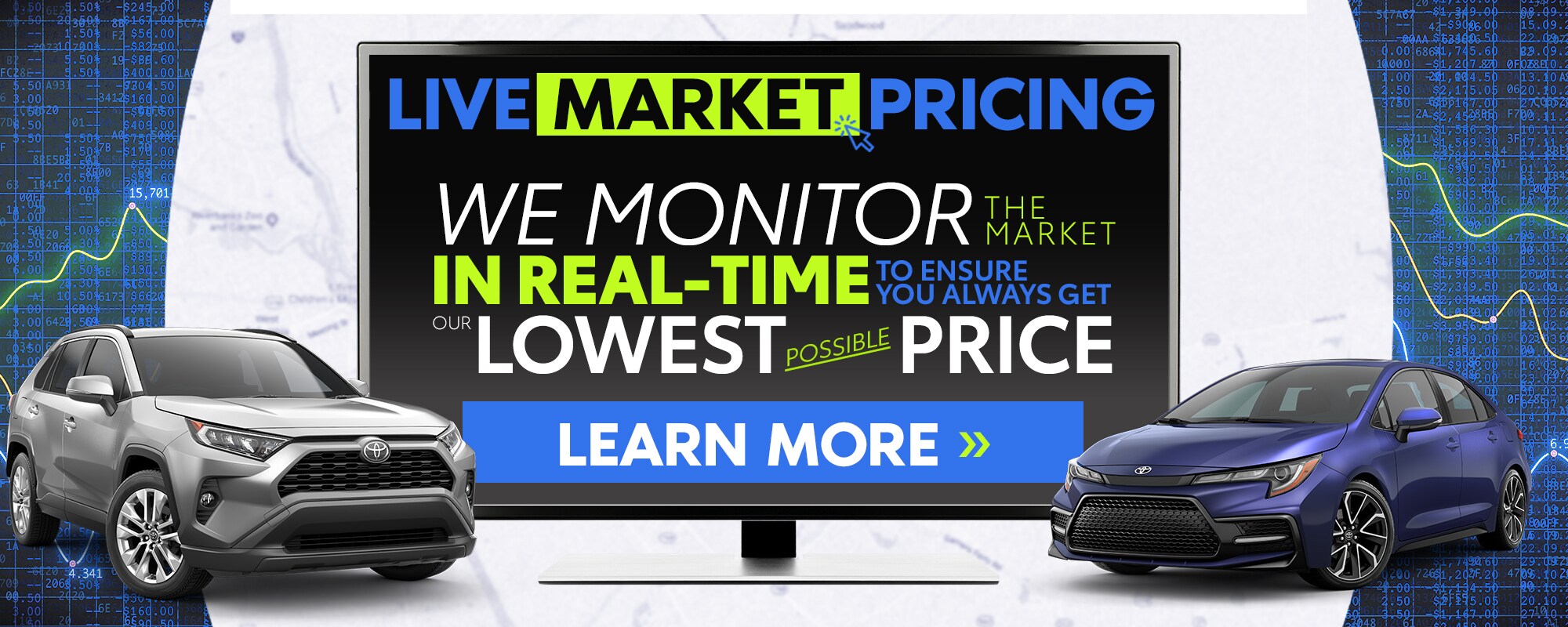 Live Market Pricing 
We Monitor the Market in Real-Time to Ensure You Always Get Our Lowest Possible Price